@@Three No





"Three No



Japanese pulse technology resolves the sulfation into Pb and SO4 and prevents the sulfating on the element plates. Not all lead-acid batteries can revive and extend the life. In the next cases, Nanopulser cannot work properly.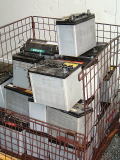 The battery got a strong shock before, the body and element plates are damaged.
The element plates are damaged because of the lack of battery fluid.
The element plates are corroded because the battery has been leaving for a long time.

*Each battery has a different condition. If the density of the battery fluid is under 1.21 and CCA value is under 70 %, it will take time to resolve the sulfation. If the battery has been leaving for a long time, it might not be revived because of the element plates corrosion.

*If the density of the battery fluid shows under 1.21 and the density difference shows over 0.04 in the all cells, the weaken cell might be damaged.


"Nanopulser

Dear Sir : Why the electronic companies haven't made such as real desulfators ?

HighGrove : Yes. You will be able to find the desulfators on the internet by the internet. You will find out some desulfators on it.

It has been known that almost 80% of the lead acid battery die because of sulfation (PbSO4).

However, if you use the old style which are the chemical liquid or the old desulfators to the lead battery, it had some problems before.

The effect of the old systems have not been improved. We have common sense that the lead acid battery cannot be prolonged.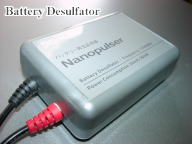 In 2006 February, the brand-new "Desulfator" was released in Japan.

This technology enables the lead acid battery to go up the density of the battery liquid and maximum voltage gradually. The old common sense might not accept this new technology.
If you are the battery specialist, you might close your mind..........

It was impossible to revive and prolong the lead battery before although it has over 10 decades history.

Anyway, "acid density" is the technical battery words. Basically, the acid density goes down year after year and never goes up.
However, after the Japanese desulfator is installed to the lead acid battery, the acid density goes up gradually.